---
Affiliate Disclaimer: This post may contain affiliate links, meaning we get a commission if you decide to make a purchase through our links, at no extra cost to you.
---
Active 2.0 Pressure Washer is an upgraded version of the popular Active VE52. It is made by Active Products, a Chinese company that has made a name for itself as the creator of the innovative bucket pressure washer.
The company has consistently pushed the boundaries of design and functionality because of its strong commitment to developing problem-solving products.
Active Products is known for its rigorous testing and quality assurance processes. They have earned a reputation for delivering reliable and cutting-edge solutions to meet the ever-evolving needs of their customers.
A Technical Breakdown of the Active 2.0 Pressure Washer
Active 2.0 Pressure Washer is a compact powerhouse in terms of technical specs. It is equipped with an 1800 Watt electric motor capable of producing a peak pressure of 1800 PSI and a 2.0 GPM flow rate, making it ideal for washing cars, cleaning walls or driveways, or even watering your garden.
Here is the technical specs breakdown:
An In-Depth Look at the Features
Easy to use
It is designed for easy use. Whether you're a first-time user or an experienced pressure washer, the Active 2.0 is easy to operate.
It has an automatic start/stop system that lets you power on the machine when the trigger is pulled, so there's no need for fiddly buttons to get it going.
Powerful
It delivers powerful cleaning results. It can reach even the most stubborn dirt and grime with its high-pressure pump and long hose.
The unit also features a large ergonomic handle that provides an easy grip and makes your cleaning process even faster.
Versatile
It is versatile enough to handle various cleaning tasks. From light-duty cleaning to heavy-duty washing, the active 2.0 can do it all.
Compact
It is compact and easy to store. Its small footprint makes it perfect for use in small spaces like apartments, RVs, and boats.
This machine is great for small surfaces and household items, including grills and cars.
Portability
One of the best things about the Active 2.0 Pressure Washer is its compact size. It's smaller than many other pressure washers on the market, making it easy to store in your garage or shed.
Plus, it's lightweight, so you can easily move it around your home or yard without breaking a sweat.
Affordable
The active 2.0 pressure washer is an affordable option for those looking for a quality product without breaking the bank.
Long life cycle
These pressure washers are twice as durable as most other pressure washers in the same category, lasting for 200 hours instead of only 100 hours.
Equipped with a patented 5-piston pro pump, it offers the performance benefits of its widely popular predecessor, the Active VE52 but with twice the life.
What Accessories Come in the Box?
Inside the Active 2.0 FULL KIT box, you will get:
Active 2.0 pressure washer unit
20-foot steel braided industrial-grade hose
Metal pressure gun with plastic housing
Metal lance
4 quick-connect nozzles (0,15,25,40)
60 ml foam cannon
Comparison with Other Pressure Washer Models
Active 2.0 Pressure Washer VS Kranzle 1622 TS Pressure Washer
Kranzle 1622 TS is another pressure on the market that competes with Active 2.0 in terms of size and category.
Kranzle pressure washers are known for their high quality and durability. They are designed to handle tough cleaning jobs and are often used in commercial and industrial settings.
Active 2.0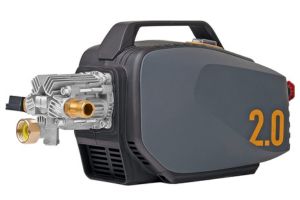 1800 PSI
2 GPM
20-foot braided hose
Light & Compact
Budget Friendly
Weight: 24 lbs
120V, 13A
Kranzle 1622 TS
1600 PSI
1.7 GPM
33-foot braided hose
A bit heavy
More expensive
Weight: 42 lbs
110V, 15A
The Active 2.0 Pressure Washer offers a maximum pressure of 2,200 PSI while the Kranzle 1622 TS has a slightly lower pressure of 1,600 PSI.
However, the Kranzle 1622 TS is known for its durability and longevity, often used in commercial and industrial settings. On the other hand, the Active 2.0 Pressure Washer is more compact and lightweight, making it easier to transport and store.
It is also more budget-friendly, making it a popular choice for homeowners and car enthusiasts.
In summary, the Active 2.0 Pressure Washer is a great option for those looking for a portable and affordable pressure washer, while the Kranzle 1622 TS is better suited for heavy-duty, long-lasting performance in demanding environments.
Active 2.0 Pressure Washer VS Active VE52 Pressure Washer
Active 2.0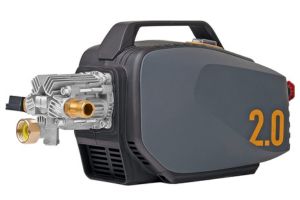 1800 PSI
2 GPM
200 hours lifecycle
Light & Compact
Weight: 24 lbs
120V, 13A
Less noisy
Active VE52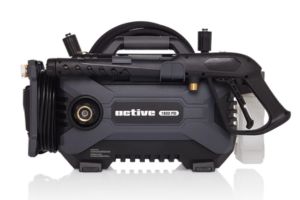 1800 PSI
2 GPM
100 hours lifecycle
Heavy & larger
Weight: 26 lbs
120V, 13A
Noisier
When comparing the Active 2.0 and Active VE52 pressure washers, several key differences set them apart. The Active 2.0 is a more compact and portable option, with dimensions of 17″W x 7″D x 8″H, while the VE52 is larger at 22"W x 12"D x 12"H.
Active 2.0 also boasts better hose connections, providing a more user-friendly experience. Additionally, the pump and motor life cycle of the Active 2.0 is double that of the VE52, ensuring a longer-lasting performance.
Despite these differences, both pressure washers are designed for car washing and detailing tasks. However, the Active 2.0 is often considered the superior machine because of its performance and features.
In summary, Active 2.0 is a more compact, efficient, and durable option, making it a better choice for most users.
Active 2.0 Pressure Washer Review: Pros & Cons
Here is a list of things I liked and didn't like about the Active 2.0:
Pros
Long operational life (200 Hours)
Robust build quality
Easy to attach quick-connect nozzles
Standard M22-14mm connection
Steel-braided industrial-quality hose
Very compact and portable
Handy onboard nozzle storage
Very low noise level: between 79 to 80 decibels
Delivers 2 GPM as advertised
The Active 2.0's ON/OFF positioner switch is much more convenient than the push button switch on the Active VE52, which was known for getting stuck.
Cons
20ft hose is a bit short
In box foam cannon generates a very thin, watery foam
The hose attaches to the pressure gun in front of the trigger. This can cause the hose to get in the way during work. The dangling hose can rub off on your car during washing.
The pressure gun has metal internals but all plastic housing.
Active 2.0 Pressure Washer: Final Verdict
Active 2.0 is one of the best values for your money. It offers great performance at a modest price tag.
I highly recommend the Active 2.0 Electric Pressure Washer for anyone in need of a powerful and efficient cleaning solution. Overall the Active 2.0 is a massive improvement over its predecessor, the Active VE52, in terms of product lifecycle and durability.
The Active 2.0 Pressure Washer is an excellent choice for car enthusiasts and detailers looking for a reliable and efficient cleaning solution. Its compact and lightweight design makes it easy to maneuver and transport, ensuring a hassle-free experience during your car detailing sessions.
With a powerful performance that rivals higher-priced models, the Active 2.0 is perfect for tackling even the toughest dirt and grime on your beloved vehicle.
Its user-friendly hose connections and durable pump and motor life-cycle make it a long-lasting investment for maintaining your car's pristine appearance.
So, whether you're a professional detailer or simply passionate about keeping your ride looking its best, the Active 2.0 Pressure Washer is a fantastic addition to your car care arsenal.
With its robust design and easy-to-use features, it's no wonder that I give it a perfect rating of 5 out of 5 stars. Don't miss out on the opportunity to make your cleaning tasks a breeze with this exceptional pressure washer.
Frequently Asked Questions (FAQ)
Q1: What type of detergent is best suited for the Active 2.0 Pressure Washer?
A1: You can use any pressure washer-safe detergent with this unit. The effect of the cleaning depends on various factors, including the type of surface and the severity of the dirt.
Q2: Is it possible to adjust the pressure depending on the task at hand?
A2: Yes, Active 2.0 offers an adjustable knob that allows you to control the water pressure according to your specific task.
Q3: What is the flow rate of the Active 2.0 Pressure Washer?
A3: The unit has a powerful flow rate of 2 gallons per minute, allowing you to thoroughly clean a wide variety of surfaces.
Q4: Can I use the Active 2.0 Pressure Washer for hot water cleaning?
A4: No, this unit is designed for cold water use only. Using hot water may damage the machine's internal components.
Q5: How do I effectively use the turbo nozzle for heavy-duty cleaning?
A5: Point the turbo nozzle towards the area you want to clean and depress the trigger. Aim at a particular spot for a second or two before moving the spray toward what needs to be cleaned next. Keep a constant distance from the surface to maintain a consistent cleaning effect.
Q6: Are there any special maintenance tips to follow for the Active 2.0 Pressure Washer?
A6: It's recommended to flush the pump with clean water after every use, and ensure complete drainage to avoid damage from freezing in colder climates. Regular inspections of hoses, nozzles, and water seals will also prolong the device's lifespan.
Q7: What should I do if the pressure washer is delivering low pressure?
A7: Check to ensure that the water source fully meets the unit's demand in terms of flow rate and pressure. You may also want to inspect the nozzle for any clogs or necessary replacements.
Thanks for your feedback!