---
Affiliate Disclaimer: This post may contain affiliate links, meaning we get a commission if you decide to make a purchase through our links, at no extra cost to you.
---
Have you ever wondered how people manage to keep their driveways, patios, and homes looking so clean and bright? The secret lies not in exhausting elbow grease or magic sprays, but in the power of a much-underrated tool: the pressure washer spray wand.
This humble hero, often unnoticed in the grand scheme of utility tools, has the potential to take your cleaning game to a whole new level. But what exactly is a pressure washer spray wand? Why, I'm glad you're curious!
A pressure washer spray wand is a device used in conjunction with a pressure washer to spray water at high velocities. This is what makes it possible for such a wand to remove even the toughest of dirt, stubborn grime, or surprising indoor residue. It serves as a magical wand that blasts off stains and dirt, transforming a soiled surface into a polished platform in a matter of minutes!
Types of Pressure Washer Spray Wands
There are three basic types of wands, each with its own unique capabilities.
1. The Telescoping Spray Wand:
This wand is also known as the 'Long Arm' of the pressure washers. With its excellent reach, this dazzling device is perfect for reaching those tricky, high-up spots without the need for a ladder. It's like having an extendable arm that effortlessly reaches rooftops, gutters, and second-story windows. Imagine that!
2. The Extension Wand:
With an 'Extension Wand' in your arsenal, you can wave goodbye to the back-breaking bending down to reach those low areas. Cleaning decks, patios, under vehicles and more has never been easier. It's almost as if this wand reads your mind and extends precisely where you need it to reach.
3. The Quick-Connect Spray Wand:
Quick by name and quick by nature. The 'Quick-Connect Spray Wand' is the embodiment of convenience. Its key feature is its ability to quickly switch between different spray nozzles or tips, making it a multi-tasking marvel. It's like having an entire team of wands in one!
Choosing the Right Pressure Washer Spray Wand
Consider the following key factors while choosing a pressure washer spray wand:
Compatibility with Your Pressure Washer
You must ensure the wand you choose can be connected seamlessly and securely to your pressure washer. Compatibility is often determined by the brand, model, and hose type of your pressure washer. To get started, look for information like universal connectors and compatibility listings in the wand's description.
Material (Stainless steel, Aluminum, etc.)
It's crucial to consider the material your wand is made of, as it directly impacts its durability and heft. Some common materials you'll encounter in your search include:
Stainless steel: Robust and weather-resistant, this material is ideal for heavy-duty tasks and holds up well in tough conditions.
Aluminum: A lightweight alternative, aluminum offers ease of use and maneuverability, albeit with a slightly reduced durability compared to its stainless steel counterpart.
Think about your intended applications and decide which material strikes the perfect balance between resilience and weight.
Length and Reach
The wand's length plays a significant role in achieving your cleaning goals. While a longer wand will aid you in reaching high or tight spots, factors such as flexibility and weight must be contemplated. For instance, a short wand could be ideal for cleaning decks and patios, whereas an adjustable or telescoping wand would be better suited for multi-story buildings.
Assess your specific cleaning requirements and choose the wand that can gracefully rise to the challenge.
Pressure Handling Capacity (PSI)
Last but not least, measure a wand's ability to withstand pressure by checking its PSI (pounds per square inch) capacity. This crucial aspect tells you how much pressure a wand can handle before it turns into an impractical water cannon.
The key is to ensure the wand's PSI capacity aligns with your pressure washer's output.
Top 5 Picks for Pressure Washer Spray Wands
We've managed to narrow down the top picks based on Amazon's Best Sellers List to help you make an informed choice.
1. Sooprinse Pressure Washer Wand:
Upgrade your pressure washer with the Sooprinse Pressure Washer Wand. Made from stainless steel and brass, it's durable, universal, and designed for efficient cleaning.
16″ length for easy reach
M22-14 X 1/4 inch quick connect
Max pressure of 5000 PSI
Compatible with gas and electric washers
It's affordable, versatile, and supported by excellent customer service. Get yours for easier and more effective pressure-washing tasks.
2. PWACCS Pressure Washer Extension Wand:
Enhance your cleaning with the PWACCS Pressure Washer Extension Wand. Made from stainless steel, it's durable and perfect for hard-to-reach areas.
Universal M22 to 1/4 inch quick connector
Added reach for efficient cleaning
Compatible with most power washers
3. janz Aluminum 24 FT Telescoping Pressure Washer Wand:
Upgrade your cleaning with the janz Aluminum 24 FT Telescoping Pressure Washer Wand.
This product includes an extension wand, a gutter cleaner attachment, five spray nozzle tips, two hose inlet adapters, and a support harness. The 24 ft. telescoping wand is made from durable aluminum and can help you reach hard-to-clean areas like gutters, roofs, and tall walls without straining yourself.
The five different nozzle tips offer versatile cleaning options, and the included adapters ensure you can connect this wand to your existing pressure washer without a hitch.
4. RIDGE WASHER Pressure Washer Extension Wand:
The RIDGE WASHER Pressure Washer Extension Wand is a delightfully effective addition to our pressure washing family. This 17-inch stainless steel wand comes in a pack of two and features a quick-connect system that enables seamless attachment to your power washer. Customers have praised its ability to extend reach when cleaning pool cages, vinyl siding, and gutters, saving them from the need to use ladders.
Though the extra reach may cause the wand to feel somewhat heavy, the overall consensus is that this RIDGE WASHER wand offers excellent value and durability.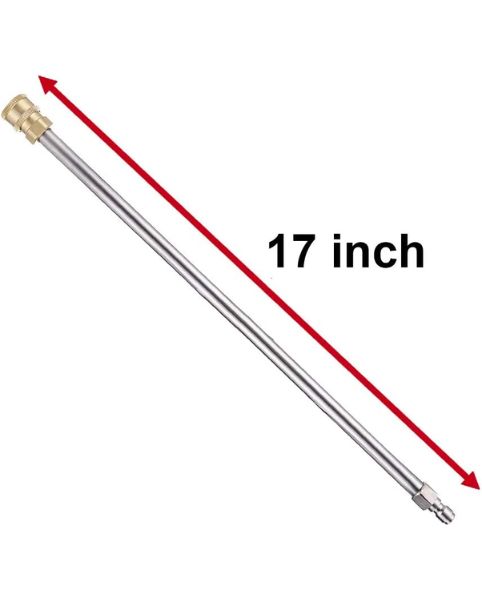 5. Simpson Cleaning 80479 Universal 31-Inch Pressure Washer Wand:
The Simpson Cleaning 80479 Universal Pressure Washer Wand stands tall and proud at 31 inches, making it an excellent choice for cold water use up to an impressive 4500 PSI. Its silver finish lends a touch of elegance to its design. This wand has been engineered to provide an optimal cleaning experience with the promise of durability and outstanding performance.
Those more challenging hard-to-reach spaces will be no match for this universal pressure washer wand.
Frequently Asked Questions (FAQ)
Q: What does PSI stand for in a pressure washer spray wand?
A: PSI stands for Pounds per Square Inch. It refers to the water pressure that the spray wand can handle. In essence, the higher the PSI, the stronger the water pressure.
Q: Why is the material of the pressure washer spray wand important?
A: The wand's material directly impacts its durability, weight, and resistance to rust. Moreover, different materials can affect the wand's performance and how comfortable it is to use.
Q: Can a pressure washer spray wand work with any pressure washer?
A: Not necessarily. Although there are universal pressure washer spray wands, it's always best to check the wand's compatibility with your pressure washer's brand and model. Look for details such as universal connectors and specific compatibility listings in the product description.
Q: What size pressure washer spray wand should I buy?
A: The size of your pressure washer spray wand depends on your specific cleaning needs. A longer wand may be ideal for reaching higher areas, while a shorter one may be easier to handle for lower surfaces such as decks and patios.
Q: Can I use a higher PSI wand with a lower PSI pressure washer?
A: Yes, you can. The PSI rating of a wand indicates the maximum pressure it can handle. If your pressure washer has a lower PSI than the wand, it will still work, just at lower pressure.
Thanks for your feedback!