---
Affiliate Disclaimer: This post may contain affiliate links, meaning we get a commission if you decide to make a purchase through our links, at no extra cost to you.
---
Pressure washers have become an essential tool for outdoor cleaning chores. They come in multiple types, but this guide focuses on electric pressure washers — an option both powerful and convenient. In this comprehensive electric pressure washer buying guide, we'll take a look at why these machines are becoming a top choice for many and what key features to look for when making your purchase.
What is an Electric Pressure Washer?
First off, you might be wondering, what precisely is an electric pressure washer? This is a device that uses a high-pressure spray of water to remove grime, dust, mud, loose paint, and mold from surfaces and objects such as vehicles, buildings, and concrete surfaces.
As the name implies, an electric pressure washer is powered by electricity, making it readily usable from any power outlet.
Importance of a Pressure Washer
Cleaning the grime off your driveway or getting rid of that stubborn dirt on your car isn't the easiest task – and this is where a pressure washer comes into play. Not only does a pressure washer get the job done faster, but it also does it more effectively than a simple hose or scrub brush.
This electric pressure washer buying guide aims to assist you in making an informed purchasing decision, ensuring you'll find the perfect tool that suits your washing needs.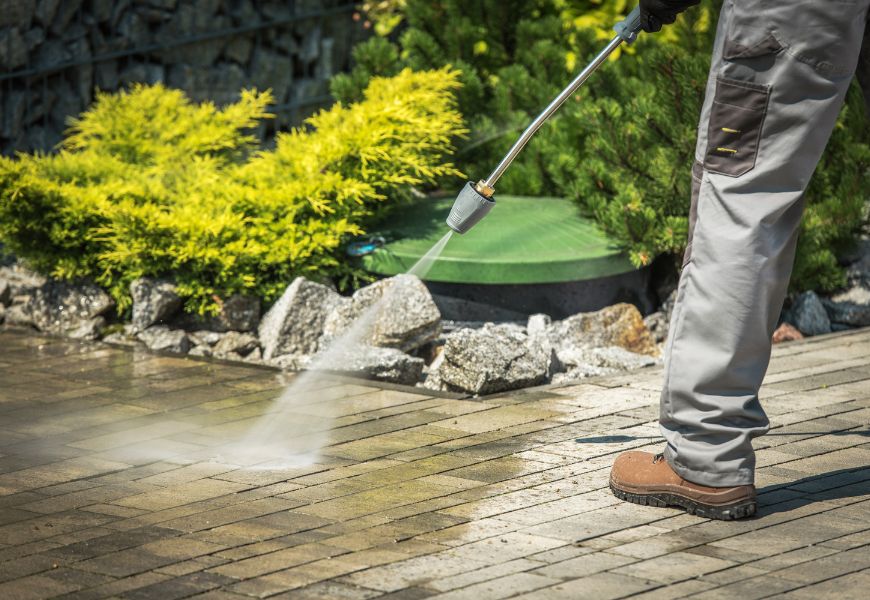 Understanding the Key Features of an Electric Pressure Washer
When purchasing an electric pressure washer, it's essential to understand the key features, as these will influence the efficiency, durability, and overall convenience of use. Let's break down the terms you'll likely come across in your buying journey.
Power and Performance (PSI and GPM)
There are two primary specifications that you need to consider – PSI and GPM. PSI (Pounds per Square Inch) refers to the pressure washer's power, whilst GPM (Gallons per Minute) measures the water flow rate. A higher PSI and GPM indicate a stronger washer, capable of handling tougher grime.
Durability and Design
When considering durability, you'll want to check the pump type (Axial cam vs. Triplex), the material used in the pump and engine (ceramic vs. steel), and the overall build quality. The design is just as crucial – look for a model with a steady base for stability, onboard storage for your accessories, and an appropriately long high-pressure hose.
Portability
Depending on how and where you plan to use the pressure washer, portability can play a big role. Lighter models are easier to move around, whilst those with large, durable wheels can handle rough terrains better.
Noise Level
Though electric pressure washers are quieter than their gas counterparts, noise levels can still vary. If noise is a critical concern for you, be sure to factor this in when choosing your model.
Things to Consider When Buying an Electric Pressure Washer
Considering these factors will help you make an informed decision and pick the perfect electric pressure washer for your cleaning needs.
Purpose
To start, consider the tasks you'll be using the electric pressure washer for — are you looking to clean your car or patio, or do you need to tackle more demanding jobs like removing concrete stains or heavy mold?
Understanding your cleaning requirements, whether they're light, medium, or heavy-duty, will help narrow down the options and ensure the washer you choose can tackle your needs efficiently.
Budget
Electric pressure washers come in a wide price range, and determining your budget upfront will help you make a decision based on what you're willing to spend. Keep in mind that more powerful models will typically be more expensive, but don't judge a pressure washer merely by its price – pay attention to the features it offers and ensure it meets your cleaning requirements.
Brand
There are numerous electric pressure washer brands on the market, each with its strengths and weaknesses. Take a moment to research the brand's reputation, customer reviews, and service history.
Going for a recognized and reliable brand can save you headaches in the long run and provide a higher likelihood of purchasing a quality product.
Read our guide on Top Electric Pressure Brands for detailed information on all renowned brands.
Maintenance
Even though electric pressure washers are low-maintenance by design, they still require some TLC to ensure a long and efficient life. Inspect how easy it is to clean the nozzles, the replacement parts availability, and whether there's support from the manufacturer if you encounter any issues.
Best Electric Pressure Washer for Different Uses in 2023
To help you find the ideal electric pressure washer for your unique needs, we've selected the best-recommended models in various categories: home use, car detailing, commercial applications, overall use, and budget-friendly. Let's take a closer look at these top picks:
The Sun Joe SPX3000 is perfect for most common household cleaning tasks. With a maximum pressure of 2030 PSI, it can tackle dirt and grime on your driveway, deck, and outdoor furniture.
Its Total Stop System and the dual 0.9 L detergent tanks make cleaning home exteriors quick and convenient.
The Active 2.0 Electric Pressure Washer is an excellent choice for car detailing, as it provides the perfect balance of power, convenience, and safety for your vehicle. Notable features include:
1800 PSI and 1.8 GPM output, ensuring efficient and thorough cleaning without damaging your car's delicate surfaces.
A Total Stop System that automatically shuts off the pump when the trigger is not engaged, saving energy and prolonging the life of your pressure washer.
The quick-connect system allows for easy attachment of different nozzles and accessories, including a soap applicator and adjustable spray nozzle for versatile cleaning.
Read our in-depth review here.
For commercial applications, the NorthStar 1571103 is a powerhouse designed to provide consistent, dependable performance. Its features make it ideal for various professional cleaning tasks and heavy-duty use:
A powerful pressure output of 3000 PSI and 2.5 GPM, enables it to tackle grime, oil stains, and more with ease.
Durability is prioritized with a brass manifold, ceramic plungers, and a rugged steel frame designed to withstand the rigors of commercial use.
The adjustable pressure regulator makes it suitable for multiple cleaning tasks, and the 25 ft. non-marking hose offers flexibility for maneuvering around large commercial spaces.
Read more: Northstar Pressure Washers.
The Ryobi RY142300 stands out as an excellent all-around choice, with a high-powered performance at 2300 PSI & 1.2 GPM. Its sturdy metal frame, 12-inch wheels, and turbo nozzle make it suitable for various cleaning tasks – from patio furniture to driveways.
The durable design ensures reliability and longevity.
The Westinghouse ePX3000 offers affordability without compromising performance. With a 2050 PSI and 1.76 GPM, it can handle most light to medium cleaning tasks.
Practical features like a 15° nozzle, soap applicator, and onboard storage make it even more attractive to budget-conscious buyers.
Wrapping Up and Your Next Steps
Choosing the right electric pressure washer is an essential step towards hassle-free and efficient cleaning, and by now, you should have a solid understanding of your best options in various categories. From home use to car detailing and commercial applications, these models cater to diverse needs and budgets.
Remember, the best pressure washer for you depends upon:
The cleaning tasks you primarily handle
How frequently do you plan to use the machine?
Your budget
Once you've made your purchase, don't forget the important tips on safety. They'll assist you in mastering the use of your pressure washer and extending its lifespan.
Electric pressure washers represent a substantial investment in the upkeep of your home or business, and we trust this electric pressure washer buying guide has been helpful in guiding your decision.
Read our FREE eBook, How To Choose The Right Pressure Washer For Your Needs, for more detailed information.
Frequently Asked Questions (FAQs)
Q: What PSI is safe for car washing?
Typically, a pressure washer with 1200 – 1900 PSI is safe for most cars. It provides sufficient power to remove dirt and grime without damaging the car paintwork. However, always use a wide-angle spray nozzle and keep the pressure washer at a safe distance from the vehicle.
Q: How often should I clean my pressure washer?
We recommend cleaning your pressure washer after each use. This practice helps prevent build-up that can affect the performance of your pressure washer.
Q: Can I use any commercial cleaner in my electric pressure washer?
No, not every commercial cleaner is safe for electric pressure washers. Always use cleaners designed specifically for pressure washers. Using an inappropriate detergent may damage your equipment or reduce its performance.
Q: Is it better to buy or rent an electric pressure washer?
This decision depends on how often you'll use the pressure washer. If you plan on using it frequently for various tasks, buying could be more cost-effective. On the other hand, renting a pressure washer can be a good option for occasional deep-cleaning needs.
Q: What does GPM mean, and why is it important?
GPM stands for gallons per minute and determines how much water the pressure washer uses. A higher GPM means the pressure washer can clean larger areas more quickly. However, it also means the pressure washer will use more water.
Thanks for your feedback!